I took 20 years off as a pro wrestling fan. Now I'm back — and more into it than ever.
Like almost any kid growing up in the late '80s and early '90s, I loved pro wrestling. Hogan. Savage. Hart. Tatanka.* I'd watch every Saturday morning and Monday night. I convinced my parents to get an illegal cable box, mainly to watch scrambled Royal Rumbles. I might've spent more time practicing my Boston Crab technique than my spelling homework.
*Randomly, my favorite wrestler then.
But unlike most kids my age, I actually stopped watching wrestling right as the Attitude Era took off. For me, there was no Rock, no Austin, no Monday Night Wars. By the time I realized what I was missing, the controversial antics of DX, Val Venis, Sable & Co. had gone so mainstream that my parents wouldn't let me watch even if I wanted to.* And I wouldn't watch wrestling for another 20 years.
*Ah, the '90s – when kids still had to do what their parents told them.
Until last year that is. On a random whim and based on our shared affinity for those early '90s halcyon days, a friend of mine asked if I wanted to check out a WWE pay-per-view in town at the Izod Center (R.I.P.). To prepare, I watched a couple Raw episodes, read some blogs, listened to some podcasts. And, somewhere along the way, I realized I was really into this again. By the time Seth Rollins did this live at the show, I was hooked.
Six months later, I subscribed to the WWE Network. Now, I DVR Raw, often Hulu Smackdown, and watch every PPV. I'm a legitimate fan and mark for the product, the same year I turn 30. With Wrestlemania upon us, here are the six things I've learned in my year back inside the squared circle.
1.) I'M NOT ALONE
I get some weird reactions when I tell friends I'm finding a bar to watch the Royal Rumble or that I didn't catch the end of some basketball game because Raw was on, or that I'm a wrestling fan in general.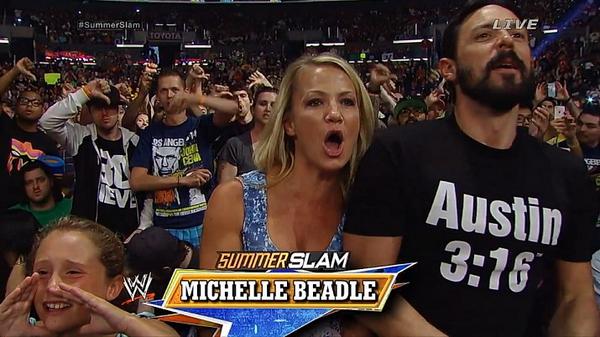 But as a newly rechristened WWE fan, you realize just how many people like you are out there. Bill Simmons, Michele Beadle, Jon Stewart – these are legitimate pro wrestling fans and you understand you're not as much of an outsider as you thought for canceling your Netflix* to pay $9.99 for WWE Network instead.
*It helps to have friends you can steal a Netflix password from.
2.) IT'S SCRIPTED, NOT FAKE
The biggest reason people are surprised I'm a wrestling fan is they can't believe I'd follow it when the matches are fixed. "But it's fake," is the blanket expression. Well yeah, that's the point. Real sports often let you down. The highly anticipated game turns out to be a blowout. The player you paid to see gets into early foul trouble and sits most of the game.
You can't think of following wrestling as following a sport. And WWE acknowledges this with its irksome-but-sensible "sports entertainment" tagline. Do you actually believe a bad guy from a different planet could open a portal in our atmosphere for alien robots from a different galaxy to attack New York City before a group of turbocharged superheroes saves the day? No. But you still had fun watching The Avengers, right? Same thing with wrestling. If you suspend your disbelief and get lost in the story, wrestling can be immensely entertaining.
And it's scripted, not fake. Roman Reigns (above, WWE's Next Big Thing) recently said on a Grantland podcast that he's suffered more injuries as a pro wrestler than he ever did as a football player. And this is a guy who made first-team All-ACC as a defensive lineman at Georgia Tech. The bumps, the athleticism, the pain — it's planned, sure, but it's still very, very real.
3.) SATURDAY NIGHT LIVE FOR SPORTS FANS
Decades as a niche entertainment institution. Fans complaining the current roster just isn't as good as it used to be. Single, micromanaging, control-freak genius visionaries responsible for the whole thing (Lorne/Vince). The occasional transcendent, crossover, megastar (Ferrell/The Rock). Catchphrases that hit the mainstream (More cowbell/Suck it). Shows that are too long, resulting in some bits that totally crush and some that make people wonder how it ever got on TV. Alums that always come back home.
Being a WWE fan is no different than being an SNL fan. You're just watching on Mondays instead of Saturdays.
4.) YOU CAN ALWAYS COUNT ON IT
Wrestling is literally always on. Raw on Monday, Smackdown on Thursday, the wildly entertaining minor-league NXT on Wednesday, pay-per-views one Sunday a month. And with the WWE Network, there's always a documentary or original show or clips or old matches to watch if you're bored and nothing's on TV.
Ever find yourself scrolling through Netflix or your cable listings for 5 minutes and complaining there's nothing on? Ever need to kill just, maybe, 15-20 minutes and so don't want to invest in a full episode of something or a movie? Just fire up an old Dudley Boyz TLC match or a Survivor Series main event and your itch is scratched.
5.) OTHER ENTERTAINMENT STARTS DISAPPOINTING YOU MORE
Wrestling is unique in that it's live and dynamic and ceaseless. They can change plots or characters on the fly. But if a character isn't working on a TV show, it could be months before they're recalibrated (it took an entire season to get the right beat on Leslie Knope). And if a movie you waited months to see sucks, there's no getting rid of that bad taste in your mouth or time you wasted. If a Royal Rumble sucks, the rehabilitation to something better starts the very next day.
Wrestling can also give you what you want over, say, sports, since it controls the plots. If the two undefeated teams in the NFC and AFC by Week 13 of the NFL season aren't scheduled to play, you better hope everything breaks right for them to meet in the Super Bowl and get the dream matchup you want. But last year, if you wanted to see Daniel Bryan in the Wrestlemania XXX main event, you got it (eventually).
Plus now if I ever see someone reaching for a chair in a show, movie, or play, and they don't smash it over somebody's back, I sigh in complete disappointment.
6.) YOU APPRECIATE DIFFERENT THINGS THAN YOU DID AS A KID
As a child, what you love about wrestling are the larger-than-life aspects. The giant, hulking superheroes battling to conquer the heelish, cheating bad guys. The pyrotechnics and the colors. The shock when somebody goes through a table and you wonder if they'll ever make it out alive.
But as an adult, you respect a whole new set of impressive and nuanced elements of the business:
These wrestlers are 24/7 method actors. Andrew Lincoln gets to stop being Rick Grimes outside of The Walking Dead. Seth Rollins needs to be Seth Rollins. All. The. Time. His real name is Colby Lopez but he has to tweet as Seth Rollins and dress as Seth Rollins and even carry his Money in the Bank briefcase with him through airports as Seth Rollins. Steve Austin's real name was Steve Williams, until he legally changed it after his career blew up. The discipline and commitment to literally give your entire life over to a character is something even a Daniel Day-Lewis couldn't pull off.
You don't find anything else anywhere like wrestling entrance music. Fox has its NFL music and the March Madness theme is an American institution, but those are catch-alls. To have a song be so associated with one person/character that when you hear Hulk Hogan's theme, all you want to do is cup your ear to the nearest group of people, is so damn impressive. And how badass is it to have your very own song unique to just you? Baseball players have to appropriate their walk-up music and often have to share it with other players. Nobody is taking Shawn Michaels' "Sexy Boy."
Pops. What may only happen during a sporting event after a huge fourth down goal line stand or walk-off homer happens pretty much every night on a wrestling card, when a fan favorite's music hits or a babyface puts his finishing move on a bad guy or a Hall of Famer makes his triumphant return. You learn to appreciate the passion the fans have and the way the promotions cultivate these reactions to climax in these "moments." Plus, it's just really friggin fun when it happens.
The planning and work that goes into successful matches is unparalleled. It's synchronized swimming and ballet and figure skating and chess and X's-and-O's. And to plan so meticulously, and then to sometimes need to completely switch that entire plan in the middle of a match anyway – these people deserve some special kind of respect, especially when they can pull off visceral, graceful stuff like this.
So there you have it. Did I convince you to love pro wrestling too?
I don't care. But now you can at least stop asking me why I do, and that's the bottom line.